But I hardly wear colorful clothes...v___V; I checked my closet and found out that 70% of my clothes I have now are black and white.....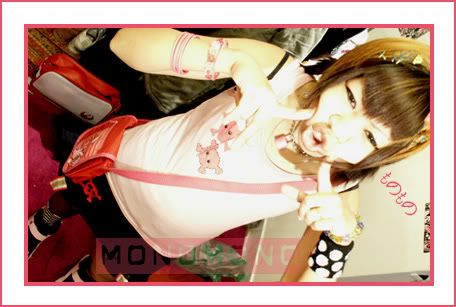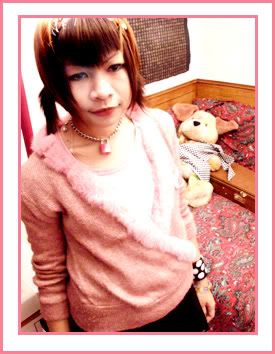 Weird pics sorry...because I love to make dorky gooffy face...my lame hobby/habit.
pink tank top : was plain pink I bought somewhere in Bangkok for 1 euro and I painted skull babies on.
pink jacket thingie : 2nd hand from garage sale in Bangkok around 5 euro.
short pants : RED DUST,Bangkok 50% sale 300 baht (6 euro) I added red skull pin/patch on.
Net knees socks : some shop for 1 euro
Check socks (almost can't see in pics) : H&M 2 something...euro
Shoes : Buffalo
what else?......accesories. : random stuffs bought from Bangkok...yey because I lived there all together not more than 2 euro...chain with pad lock necklace I made it myself with my mom old metal lock and I painted it pink/glitter...hairclips mostly gifts.
Zoom pics of some stuffs in those pics.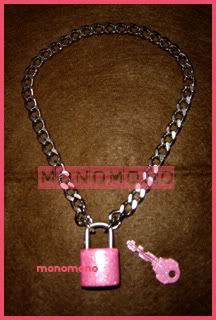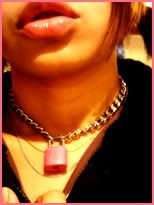 I'm not punk or fan of Nana I wear this lock to remind me of my family back in Thailand because my parents gave me this lock to lock my travel bag when I left to here.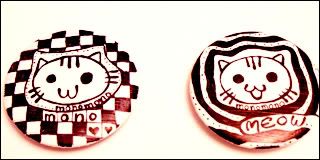 Pins I remade from old pins. I painted them with acrylic paint then drew pictures with black permanent pen.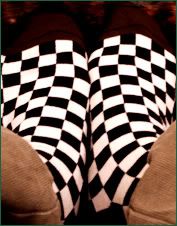 Sock...I'm obsess in check stuffs so just give me anything with checkerd print I'll love it and you too.
My tank top.Painted with fabric paint ,added chain and sew heart shape beads as eyes...I called them lovers.
And this...is plain black..should I leave it black or put that words for real...I wonder...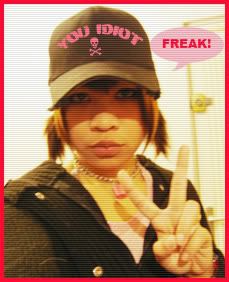 Wow..many pics...sorry ne X__x.